Read through these Bible verses on thankfulness to fall more in love with God and cultivate a deeper heart of joy and gratitude.
Thankfulness is a common theme in the month of November, but it is so important to pursue gratitude all year long on a daily basis.
Scripture proves that to be true! It is mentioned over and over again throughout the Bible.
These are just 15 of the many Bible verses on thankfulness.
If you're looking for a way to put your heart of gratitude into action, try the 30 Days of Gratitude Challenge!
There is a wonderful devotion on Christianity.com that describes the "Christian Grace of Thankfulness," explaining our call as Christians to thankfulness, as well as the characteristics of thankfulness (like obedience, service, & contentment).
As you can see, the Bible verses on thankfulness dive so much deeper than just a fleeting feeling of gratitude in a blissful moment. Keep reading to learn more.
Scripture on Thankfulness & Gratitude
All Bible verses below are from the New International Version (NIV).
1. "Give thanks in all circumstances; for this is God's will for you in Christ Jesus." – 1 Thessalonians 5:18
The thankfulness that God calls us to isn't about just giving thanks for the outwardly good things (puppies, rainbows, cake). It's about thanking Him in every season of your life. Every trial, every triumph, every emotion.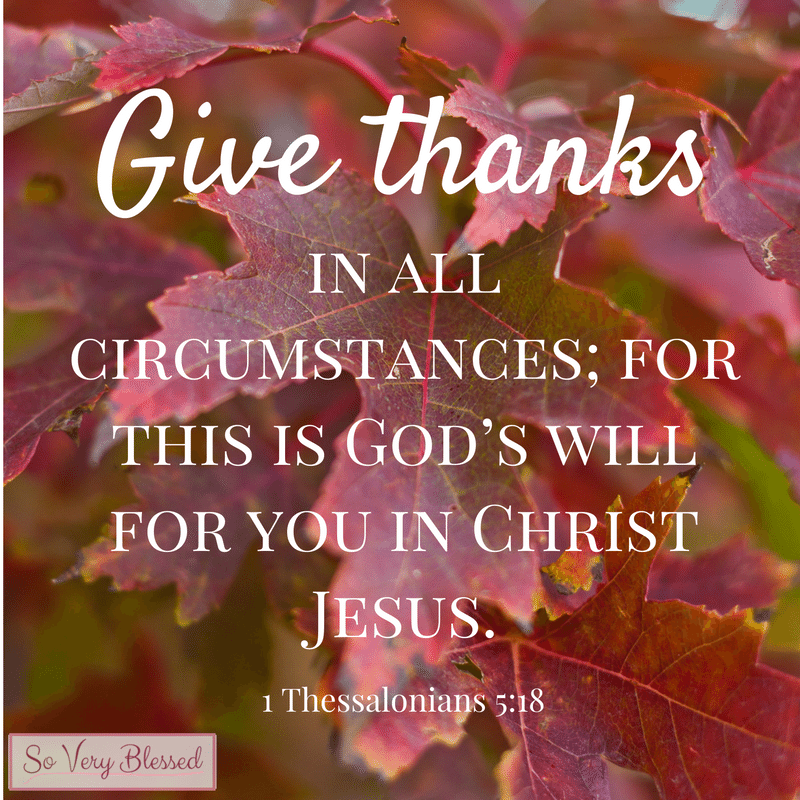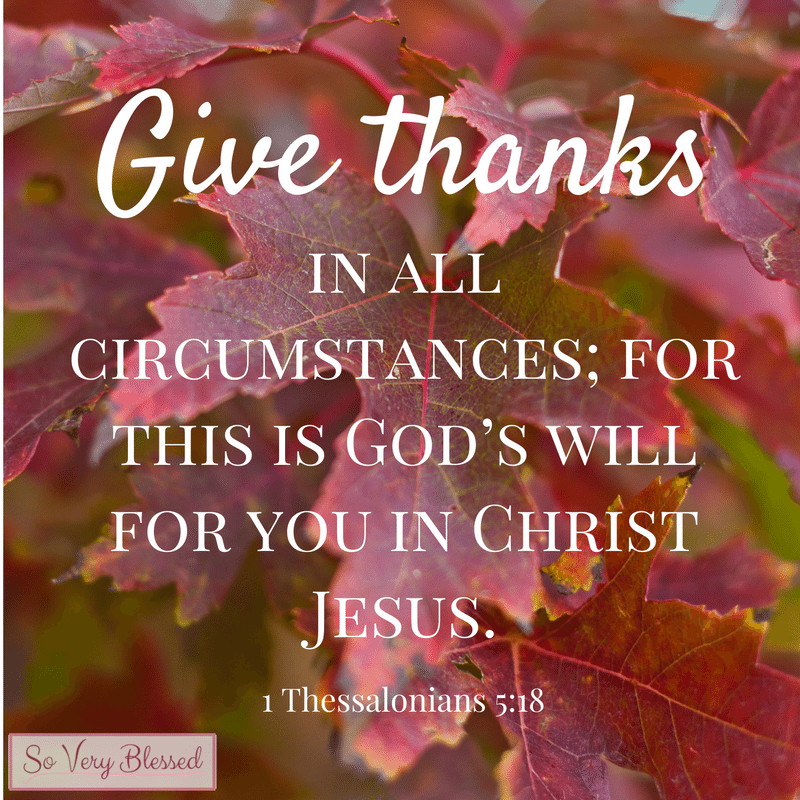 2. "For everything God created is good, and nothing is to be rejected if it is received with thanksgiving…" – 1 Timothy 4:4
It's so easy to be a cheerful giver when the gift is received with gratitude. When my niece and nephew were young, my sister worked on teaching them to receive any gift with thanksgiving by handing them random objects and asking them to find one positive thing to say about it. She handed them a pickle, a paperclip, a hair bow, and a gum wrapper. And it worked! Every birthday and Christmas gift those kids receive is received with a more thankful heart.
Gratitude doesn't always come naturally, but with practice and intentionality, we can better appreciate all of the good gifts God has given us.

3. "All this is for your benefit, so that the grace that is reaching more and more people may cause thanksgiving to overflow to the glory of God." – 2 Corinthians 4:15
One of the most frequently forgotten blessings is grace. It's a gift so freely given that we forget how much of our "stuff" has been forgiven on a daily basis. But, stopping to think about that grace for even just a moment brings a deeper and overflowing thanksgiving.

4. "You will be enriched in every way so that you can be generous on every occasion, and through us your generosity will result in thanksgiving to God." – 2 Corinthians 9:11
You make a difference. Every single day. Your smile, your acts of service, your generosity…they are all ways to share God's love with others and bring glory to Him.

5."And whatever you do, whether in word or deed, do it all in the name of the Lord Jesus, giving thanks to God the Father through him." – Colossians 3:17
Recognizing that every single thing that we do every day, even those seemingly menial tasks, hold a deeper meaning when we are doing them for the glory of God gives us both a more purposeful and thankful life.
6. "Devote yourselves to prayer, being watchful and thankful." – Colossians 4:2
I believe those two things go hand-in-hand – being watchful and thankful. If you have your eyes open to look for God moving in your life, I think thankfulness naturally follows.

7. "…always giving thanks to God the Father for everything, in the name of our Lord Jesus Christ." – Ephesians 5:20
Give thanks for everything. What a radical idea in a culture that tries so hard to get us to focus more on the things we want than the things we have.
8. "Give praise to the

Lord

, proclaim his name;

make known among the nations what he has done,

and proclaim that his name is exalted." – Isaiah 12:4
Spreading your thankfulness while you praise the Lord for all He has done in your life is a beautiful thing.

9. "I always thank my God as I remember you in my prayers." – Philemon 1:4
Appreciating the people in our life and thanking God for them deepens our heart of thankfulness!

10. "Do not be anxious about anything, but in every situation, by prayer and petition, with thanksgiving, present your requests to God." – Philippians 4:6
It's easy to naturally drift toward worrying. There are so many things in life that are completely out of our control. But God gives us a way to deal with our anxiety. Our job is to ask for help and thank Him. He handles the rest.
11. "The

Lord

is my strength and my shield;

my heart trusts in him, and he helps me.
My heart leaps for joy,
and with my song I praise him." – Psalm 28:7
God is so ever-present, always providing for all of our needs. That's a beautiful reason to have a heart that leaps for joy and praises Him!

12. "I will extol the

Lord

at all times;

his praise will always be on my lips." – Psalm 34:1
The average woman speaks 20,000 words per day. Can you imagine how much more powerful and impactful those words would be if we replaced our complaining and worry with praise and gratitude?
13. "
Let us come before him with thanksgiving
and extol him with music and song." – Psalm 95:2
Music is a great way to change your mood. Sad songs help you grieve and happy songs put you in a better mood. So, it only makes sense that when our thanksgiving builds up inside of us that it comes out in service, words, and song!

14. "
Enter his gates with thanksgiving
and his courts with praise;
give thanks to him and praise his name." – Psalm 100:4
When I was in college, a Bible study leader of mine mentioned that she started every prayer with a "thanks" to God for one thing or another. I adopted that practice back then and have kept it going ever since. It's such a great way to shift your heart as you seek God.
15. "Give thanks to the

Lord

, for he is good;

his love endures forever." – Psalm 107:1
That ever-enduring love is a wonderful reason to give thanks.

Looking For Other Posts On Thankfulness? Check These Out!
Unconventional Gratitude: Grateful For Not Enough
Why Your Gratitude Journal Isn't Making You Grateful
Savoring Today – A Life Of Everyday Gratitude
Unconventional Gratitude: Grateful For Flaws