Check out the benefits of gratitude, a devotion on thankfulness, & tips for how to cultivate a grateful heart that will give you joy in an imperfect life.
Gratitude is the common theme for November since the prominent holiday of the month focuses on giving thanks and all, but thankfulness is so much more than a one-day, or even a one-month, long event.
The Benefits Of Gratitude
strengthen your relationships (and make it easier to build new ones)
keep your stress under control
help you sleep better
not to mention have a powerful impact on the state of your heart, both physically and emotionally.
Our church has been having the most beautiful month of giving thanks.
We have a wall in our welcome center where people can pin up pictures, words, and other reminders of things they are thankful for (that race number that you see in the picture there is one that I added!).
We had a photo booth one Sunday where people could write down what they are thankful for and get their picture taken with it, then the next Sunday, there was a slideshow of everybody's pictures running at the beginning of the service.
Our worship director (and one of my dearest friends) put together a devotional for the month of November with every day's entry written by a different member of our congregation, all focusing on the theme of thankfulness.
There is also a table set up for people to make their own jars and take little slips of paper that they could write things that they are thankful for and drop them inside.
Cultivating a spirit of gratitude is so good for the soul. It can keep your mood up when everything around you tries to drag it down. It can help you find the good in even the darkest of situations.
And that's exactly what I wrote about in the devotional I contributed to the book.
I am the eternal optimist. I can find sunshine and rainbows pretty much everywhere and I have a smile on my face almost all the time.
But my experience goes along with Madeline L'Engle's words -"Maybe you have to know the darkness before you can appreciate the light."
A Devotion On Gratitude
Desperation.

It's not the first thing that comes to mind when I think of thankfulness. I tend to dream up images of stunning sunsets, blooming flowers, hopeful rainbows, and the ripple of laughter making its way through a close group of girlfriends. Thankfulness is a bright, happy, light emotion.

Except my journey to finding true, raw thankfulness began on the floor of a dark bedroom closet, crouched and hidden behind a row of hanging shirts. See, I had invested every ounce of energy I had into a relationship and after years of disappointment and rejection, I had fallen into a deep pit of loneliness and fear. I had unknowingly wrapped my entire identity around another person's approval of me. But I was relying on a sinful person with an unquenchable desire for more, which so many of us have, so no matter how hard I tried or how much I gave, I was never enough.

And my strength was gone. I had absolutely nothing left to give. I had no words left to speak and no tears left to cry. I was stripped. Broken.

Desperate.

It was a desperation that drove me to fall into the arms of the One who had the power to pierce through the darkness surrounding me; the One who loved me just as I was. The One who gently whispered, You are enough. Come as you are.

And I did. I cried out to Him in prayer. I searched His Word for guidance. I reached out to my family in Christ. One ray at a time, light, joy, and truth started illuminating my life again as I rebuilt my identity, not as the shattered remains of a failed marriage, but as a dearly beloved daughter of the One True King, rooted in Him and His unfailing love. Instead of being torn down by my inevitable mistakes, I was built up knowing that my weakness allowed more opportunity to rely on His strength.

So many people express their apologies for me going through those tough times, but the thing is, I am so thankful for them. If I had never reached the end of my own strength and felt that need, that desperation to rely on my heavenly Father for my every hope and every need, I never would have found this depth of gratitude. Now, I live in a near-constant state of immense joy, overflowing with thankfulness. And it all started that dark night on the closet floor; the night that I offered up an empty vessel and was given wholeness in return.
I am so thankful that you've taken time to spend here in my little corner of cyberspace, dear friend. I encourage you to find a way to boost your own spirit of gratitude, this season and always.
Finding Ways to Be More Grateful
There are endless ways to stir up that feeling of thankfulness in your heart, but here are some ideas to get you started.
30 Days Of Gratitude Challenge
If you're looking for a practical way to increase your gratitude, try my 30 days of gratitude challenge.
You can go to that post and get your free calendar that guides you through 30 days of simple activities to stir up a heart of thankfulness.
It's a great activity to do together with your kids, with your friends, with your Bible study group, or as a couple during the month of November!
Start A Thankful Jar
All you need is some kind of a jar (a mason jar, a plastic jar, or pretty much any bowl or jar of any kind will work!) plus some pieces of paper and a pencil.
If you are feeling crafty, jazz it up a little with ribbon, felt, stickers, paint, or whatever else you have on hand.
As you think of things you're thankful for, simply write them down and drop them in your jar.
It's a fun tradition to take out your jar on Thanksgiving Day and read those memories out loud as a family!
Keep A Gratitude Journal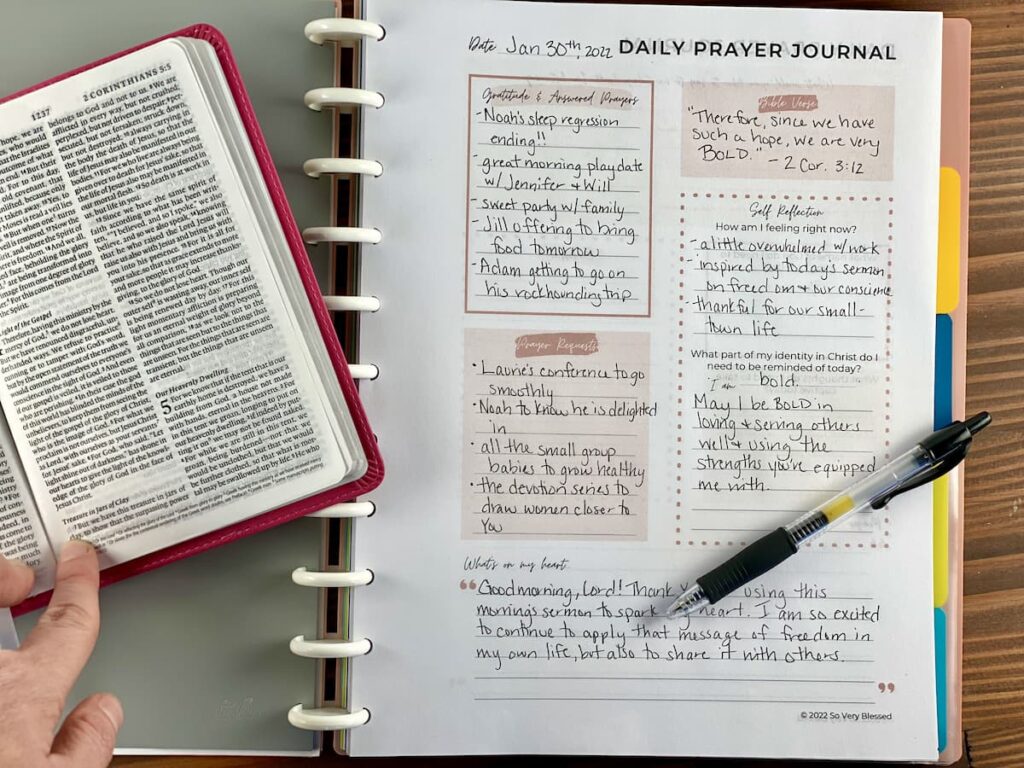 If you've never thought about keeping a journal like this before, now is the perfect time to try it out (here are 5 reasons why it's worth your time to have a gratitude journal).
This truly is as simple as finding some paper and a pencil. Some women I know keep theirs by their bedside and jot a few things down from their day before they go to bed at night. Others combine theirs with their prayer journal and write in it during their quiet times with the Lord.
There is no wrong way to gratitude journal!
If you're not sure where to start, try using these 31 gratitude journal prompts to get you going.
Thank Others
Maybe you're a writer and you'd like to write notes of gratitude to people who have made an impact on you.
Maybe you're a baker and prefer to give them a cake, bread, or batch of cookies to thank them for a favor they did for you, a kind word they said to you, or some other way they have supported you.
As a non-crafty person myself, I always appreciate handmade gifts from my friends (cards, crocheted hats, homemade candles, etc).
Tell people how much they mean to you because so often they really have no idea.
Share it and share it often.
Memorize Bible Verses On Thankfulness
Sometimes we just need reminders of how important gratitude is to motivate us to look for those small (and big!) joys in our lives.
Check out these 15 Bible Verses on Thankfulness and these 10 Bible Verses on Joy as reminders of the hope we have to cling to, even during our most difficult days.
The Bible reminds us that joy and a heart of gratitude are possible always, in any circumstance.
Seek Joy In Difficult Times
Right off the bat, I want to clarify that I am not saying to paste on a happy face and pretend like you're not struggling when things are really difficult.
Instead, I'm saying that experiencing glimpses of joy during trials can give you an extra burst of hope to help you survive impossibly difficult days.
Gary Haugen says, "Joy is the oxygen for doing hard things."
That's exactly what inspired me to write a series of posts called "Unconventional Gratitude" to encourage us all to look for joy in unexpected places.
Recognize Everyday Joy
Things we really love can get lost in the mundane routines of daily life – errands, chores, the same tasks done over and over again.
If you've also struggled with your gratitude getting lost in your everyday routine or hurried schedule, try these tips to help you savor today and create a life of everyday gratitude.
It's so easy to get swept away in the difficult situations in your life, the scary things of the world you see in the news, and the frustrations shared on social media, but gratitude is worth searching for.
Gratitude can change lives – yours and everybody around you.