This Broccoli Cheese Soup is packed with veggies & uses Greek yogurt instead of heavy cream for a healthier and protein-packed comfort food on chilly nights
I read an article a few years ago that was discussing the things our fast food culture was missing out on by just grabbing and gobbling food. It talked about how eating, and feeling full, is more of a process than an instant occurrence. That's one of the reasons we tend to eat more from the drive thru.
One of the things that really stuck with me was their description of a home-cooked meal. It's more than just the food on the table. The meal starts with the preparation of the food. There's the methodical chopping of vegetables and the swirling steam released from a pot of boiling water. The sound onions sizzling in a pan of melted butter and the smell of fresh herbs and vegetables caramelizing. All of those things are the build-up for the meal, like the opening acts before the main event. They create anticipation and it actually contributes to the feeling of satiation.
I try to be mindful of that. Sometimes I stick dishes with longer cook times into my meal plan, just so I can experience the meal more than rush through it. I think that's what makes food feel more comforting.
Soup is one of my favorites. I've been seeing my Facebook news feed fill up with pictures of snow and freezing temperatures across the nation. Here in Tucson, it's been a balmy 75 degrees, which isn't exactly soup weather, but I made soup nonetheless!
And it was exactly the experience the article was going for – onion-sizzling, broccoli chopping, steam swirling, broth simmering goodness. It made my house smell amazing!
I really love creamy soups, but I wanted to avoid using cream or half & half in this one, so instead I added Greek yogurt along with the cheese and seasonings. I've used my immersion blender to blend broccoli cheese soups before, but I love the added texture of the chunks of broccoli and carrot in the creamy broth, so I left them intact. The warm creaminess, along with the sharpness of the cheddar cheese made it wonderfully comforting. A toasted piece of Trader Joe's rosemary and sea salt artisan bread was the perfect accompaniment.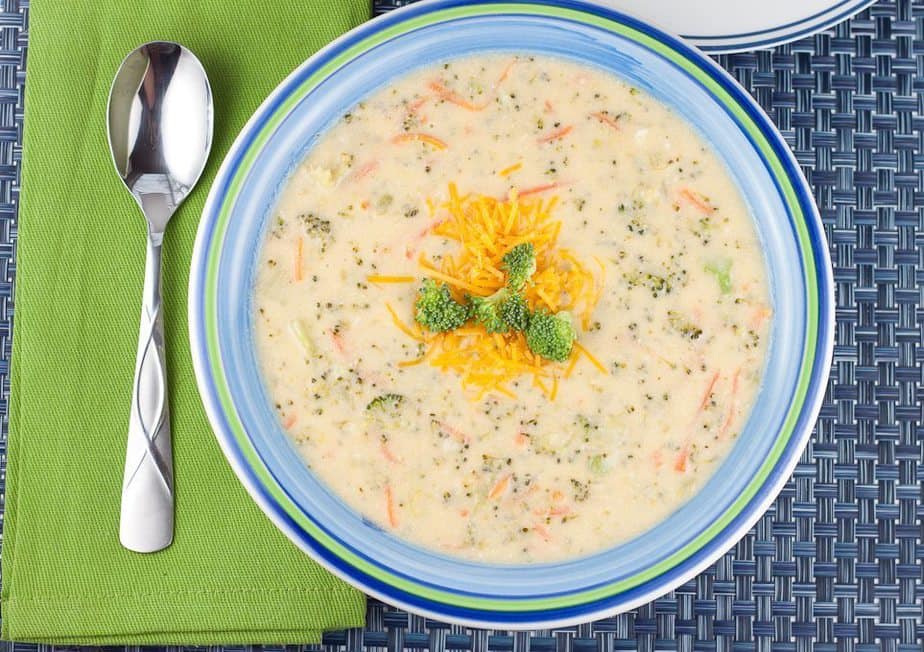 I hope you all are staying warm, wherever you are!
Broccoli Cheddar Soup Recipe
Ingredients
4 Tbs butter
1 cup yellow onion, chopped
2 tsp minced garlic
4 cups finely chopped broccoli
2 cups shredded carrot
1/4 cup flour
4 cups chicken broth
2 cups shredded sharp cheddar cheese
3/4 cup plain Greek yogurt
1 tsp dry mustard
salt and pepper, to taste
Instructions
In a stock pot, melt butter over medium heat.
Add onions, garlic, broccoli, and carrots and cook for about 5 minutes.
Sprinkle flour over vegetables and cook, stirring consistently, about 3 minutes.
Slowly stir in chicken stock.
Bring to a boil, cover, turn the heat down to medium low, and simmer for 20-25 minutes, stirring occasionally.
Remove pot from heat and add the cheese, yogurt, dry mustard, salt, and pepper, and stir until combined.