This sweet potato nachos recipe has taco seasoning, black beans, avocado, Greek yogurt, and melted cheese for a delicious healthy dinner choice!
I grew up in a household where my mother limited "treat" foods to one serving.
As in, she would actually read the label and count out "about 15 chips" to put on my plate. I always loved when she made her Monster Cookies, not because I actually preferred that variety of cookie, but because they were ginormous and somehow they flew under the radar of her serving size fixation, so I would get the whole cookie for dessert (major score!).
All other treats were strictly regulated. I would only get one package of fruit snacks in my lunch and she would open a double package of Nutty Bars and only give me one of the bars.
Appalling! There's a reason they come in a two-pack!
I was always left feeling terribly deprived after my well-balanced home cooked meal, so my solution to the problem was to wait until everybody was asleep, creep into the kitchen, grab the entire box, and stealthily slither back to my bedroom and eat all 12 bars. That's 1,860 calories, people!
Not that I cared back then. It was also essential to hide the box under the bed. You know, until my mom realized that the entire box was gone (which she always did) and look under my bed (I really should have changed up my hiding places) and I would get another talking to about making healthy choices and the consequences of bad behavior.
Apparently it took 28 years for those talks to sink in, but I finally like healthy food! Not just like, I love healthy food. I refused to touch sweet potatoes, fish, spinach, wheat bread, any variety of bean (unless it was refried) for over two decades and just in the past year, all of those foods have become favorites of mine.
Instead of using chips for these nachos, I toss sweet potato slices in olive oil and taco seasoning and then roast them. As a warning, these sweet potatoes don't get crispy like chips. I prefer the thicker pieces.
You can always slice them thinner to get them crispier if you prefer or use an air fryer to crisp them up nicely!
Once the sweet potatoes are roasted, sprinkle on the cheese and put it back in the oven until it melts. Then pile on the black beans, salsa, Greek yogurt, and avocado. Sprinkle on a little bit of fresh cilantro and squeeze on some lime juice as a finishing touch.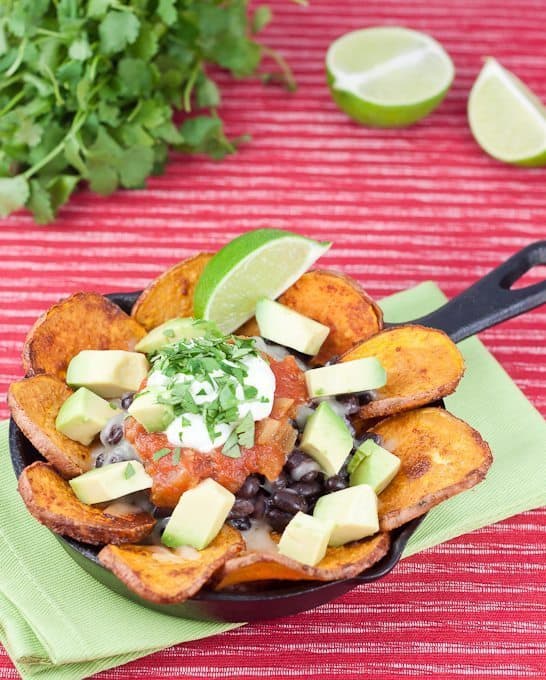 I started using Greek yogurt in place of sour cream recently and I love it.
It's still thick and tangy and it adds a little boost of protein while mellowing out the spice of the salsa. I almost always have a tub of it in my fridge to throw in or on things.
And for dessert? Nutty Bars. Both of them.
What can I say? Old habits die hard.
Sweet Potato Nachos Recipe
Ingredients
2 large sweet potatoes, washed and dried
2 Tbs olive oil
1/4 c. taco seasoning
1 (15 oz) can black beans
1 c. shredded Monteray Jack cheese
1 c. salsa
1 avocado, peeled, pitted, and diced
1/4 c. plain Greek yogurt
1/4 c. fresh cilantro, chopped
1 lime, quartered
Instructions
Preheat oven to 450 degrees.
Slice sweet potatoes into 1/4" rounds and toss with olive oil and taco seasoning.
Spread in a single layer on baking sheets and bake for 15-20 minutes, until potatoes start to brown.
While potatoes are baking, heat black beans in a sauce pan over medium low heat until warmed through.
When potatoes are done, sprinkle with cheese and put back into the oven until cheese is melted.
Top with black beans, salsa, avocado, and cilantro.
Squeeze lime juice on top and serve immediately.
Nutrition Information:
Serving Size:

1/4th
Amount Per Serving:
Calories:

444
Total Fat:

19g
Saturated Fat:

5g
Trans Fat:

0g
Unsaturated Fat:

1g
Cholesterol:

23mg
Sodium:

1150mg
Carbohydrates:

52g
Fiber:

12g
Sugar:

8g
Protein:

16g