This post may contain affiliate links, which means I may earn a small commission from purchased products at no additional cost to you.
These Roasted Baby Carrots are an incredibly simple way to add vegetables to any meal. Roasting the carrots brings out their natural sweetness, making them especially delicious!
My best friend recently brought her sweet baby boy here to meet everyone from her hometown. It was a pretty wonderful excuse to throw a party and her mom just happens to be an expert hostess.
We had a pretty incredible spread with salmon and ground beef for tacos, tons of different salads and fruits, a big display of mini cupcakes, and her mom had asked if I would make some roasted vegetables.
I can't even tell you how many people asked me for the recipe that night, which shocked me because I thought everybody knew of the deliciousness of roasted baby carrots!
In case you are one of those people that have been missing out your entire life, get ready. Things are about to change for the better!
Roasted Baby Carrots
Break out a 2-pound bag of baby carrots. They are already washed, peeled, and prepped, so all of the hard work has been done for you! I love it when that happens.
Pour the carrots out onto a rimmed baking sheet.
Drizzle avocado oil (or extra virgin olive oil) over the carrots and sprinkle them with salt and pepper.
On a side note, if you haven't tried avocado oil, you really should! I buy mine at Costco and I use it for practically everything! It has a higher smoke point than olive oil, it's full of antioxidants, and it has less saturated fat (the one you want to avoid) and more monounsaturated fat (the kind of fat you want
as a part of your diet). It's good stuff!
Sprinkle on salt and pepper, then stir it all up and stick it in the oven.
Bake it for about 30 minutes, until the carrots are tender, and that's all there is to it!
This is one of the simplest, delicious, and versatile recipes there is, and it's healthy, to boot!
It's a wonderful healthy side to bring to potlucks, parties, and barbecues.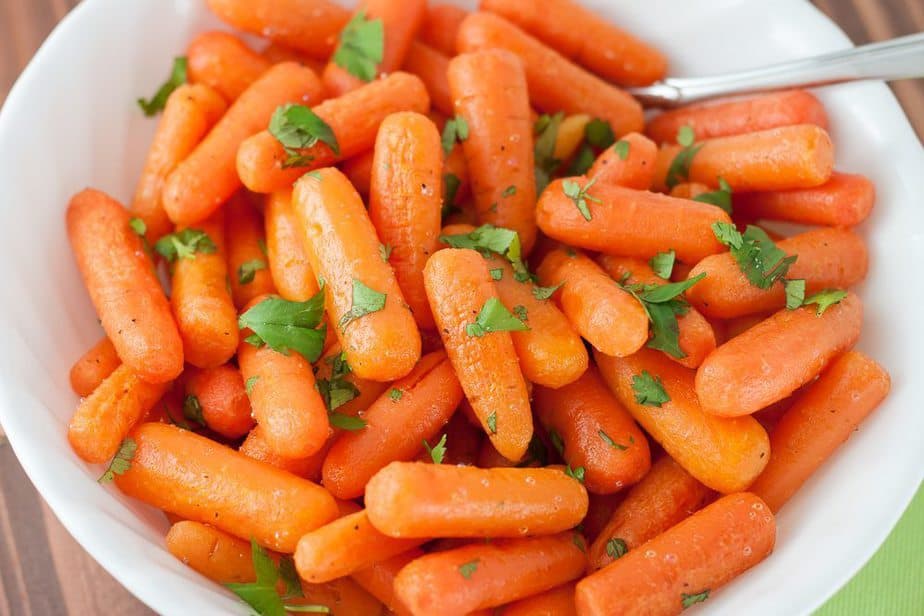 And it's just as wonderful to make to go alongside just about any main dish you can come up with – chicken, fish, pork, beef, quinoa.
This is the simplest version that is plenty delicious as it is, but you can get creative and add garlic, Italian seasonings, balsamic, honey, and all kinds of other flavors to jazz it up!
Print
Roasted Baby Carrots Recipe
---
Prep Time:

5 minutes

Cook Time:

30 minutes

Total Time:

35 minutes

Yield:

8 servings
---
Instructions
Preheat oven to 400 degrees.
Spread baby carrots into a single layer on a baking sheet.
Drizzle oil over carrots and sprinkle with salt and pepper.
Stir to coat evenly and bake for about 30 minutes until carrots are tender.